TERIAS understands that businesses need incredibly cost efficient, state-of-the-art,
Phone Systems.

3CX is an award-winning open standard virtualised phone system (Windows & Linux IP PBX) that replaces traditional proprietary hardware PBX whilst providing enterprise features at a fraction of the cost.


3CX Phone System supports popular SIP phones, VoIP providers and traditional PSTN lines. The web-based management console makes it easy to configure, eliminating the need to hire expensive telecom consultants.



Lower your company's call costs and truly globalize your business by leveraging VoIP Providers and bridging your offices for free inter-office calls.



Increase productivity with Unified Communications features that allow you to setup conference calls and web meetings in a matter of seconds and see the presence of your colleagues.



Increase mobility by allowing your employees to take their office extension with them wherever they go!



Step into the future of web conferencing with 3CX WebMeeting – the new and unparalleled video conferencing platform which leverages WebRTC Technology for a seamless, user-friendly experience with no need for additional plugins or software.


Easy to install & manage (software based)
Inexpensive to buy and expand
Work from anywhere with iOS & Android clients
Leverage existing IT infrastructure & Server hardware
Save on your phone bill with SIP Trunks & Mobile / Remote clients
Integrated video conferencing using WebRTC
Better customer service with advanced call queues
Integrate with CRM & Accounting software
Standards based – use popular IP Phones, SIP Trunks
Click 2 Call from your website
Trouble free installation and management
With 3CX, the installation, configuration, deployment and user management of communication systems are incredibly simple, fast and easy. 3CX solutions thrives with powerful capabilities facilitated by their cutting-edge technology. 3CX is a kind of phone system that a business can have no worries about.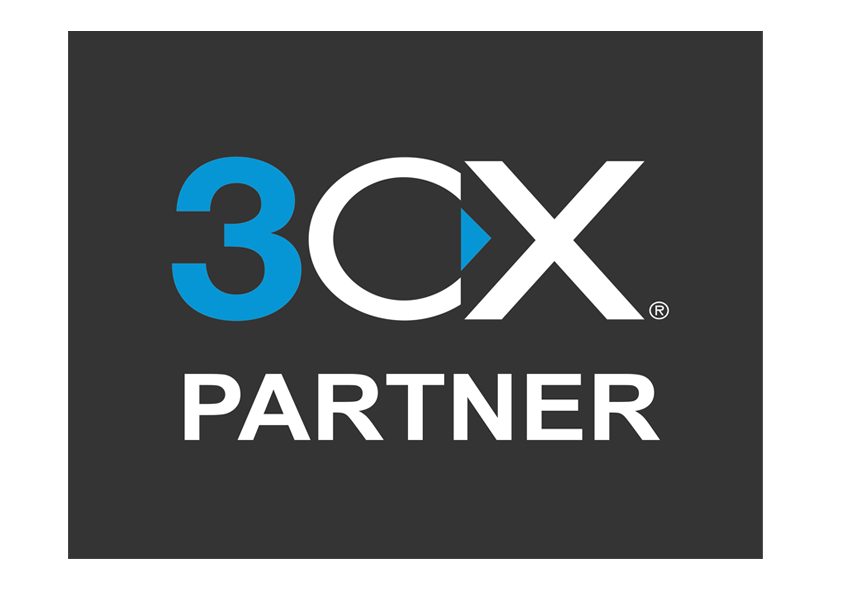 3CX enables super fast installation and management through,
Pre-compiled templates for ease of integration supported by prominent SIP Trunks
Automatic configuration gateways and highly interoperable IP Phones.
Automatic updates and IP blacklist for increased security.
Build in data backup for trouble-free data migration.
3CX high usability management console enables users to,
Manage extensions and DIDs (creation, modifications and deletion)
Upgrade IP Phone firmware and remote control IP phones (reprovision and reboot)
Update systems and SIP trunks within minutes.
Conduct server-side CRM integrations.
High Cost savings
This is the reason why 3CX is one of the most popular, leading phone system providers. Sophisticated features, advanced security, ease of installation and management would all be useless if they are unaffordable. But 3CX provides all these while cutting costs at an unbelievably high level.
3CX promises,
Cost cuts up 80%.
Licensing per number of installations (not extensions).
Completely free of charge calls within office and within branch.
Connect remote workers through free of charge calls using web and iOS/ Android apps.
Decreased outbound call costs through the usage of SIP trunks.
Competitive rates for client calls through international DIDs & IP Telephony.
Advanced security and data backups
With 3CX the security of your PBX systems is set to maximum level. The unquestionable VoIP security offered by 3CX will guard your systems from any type of attack possible.
Web server configured for maximum security.
Automatically identifying and blacklisting of SIP Attack tools.
Automatically updated Global IP Blacklist.
3CX Tunnel for encrypting traffic to 3CX apps.
SRTP for encrypting voice traffic.
Automatically generating and managing SSL certs.
SSL lab for high VoIP security.
Automatic Failover for instant backup.
HTTPS for encryption between browser and the website.
3CX management console protected with limited access based on IP.
Freedom of choice: Deploy on premise or in cloud?
3CX offers three options to run your communication system and manage data: on-premise, hosted by 3CX or using private clouds. Which ever you choose, flexibility and ease of use is guaranteed with 3CX.
Hosted by 3CX: Around the clock monitoring, daily backups, automatic version and security upgrades.
Private Clouds: Free cloud PBX, supported by all leading cloud service providers.
On-premise deployment: Deploy on your present Windows or Linux machine or on a MiniPC Appliance or Raspberry Pi, use Hyper-V, VMware or KVM for virtualization
High capability apps and features
With 3CX, mobility is something that clients never have to worry about. With Android, iOS apps, web and Windows applications, you can take your extension to any where in the globe with you. 3CX live chat and Facebook Messenger integration are there for customers to reach you directly through your website or your Facebook page.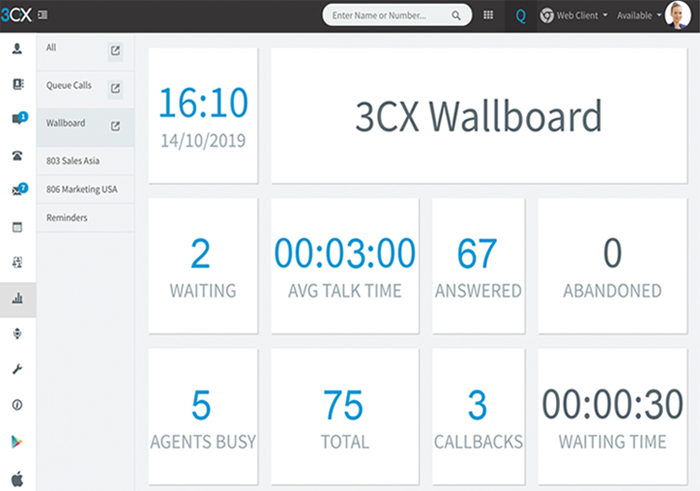 3CX Windows Application:
Make IP Phone calls from your desktop machine with CTI mode.
Easily display your status and view the status of your co-workers.
Allows easy transferring of calls.
Monitor and control calls through receptionist view.
Connect easily with other useful applications ( MS Exchange, Microsoft Outlook or Internal Phonebook).
Automatically generate reports on customer and agent activities.
Web conferencing and ad-hoc meetings.
Offers Wallboard and Q-Manager view.
3CX Web apps:
Highly user friendly and multifunctional with inclusive UC features.
Capable of making calls directly or control calls on your phone.
Offers a single interface to connect with clients who use live chat, Facebook and SMS.
Reduces bandwidth usage (facilitated by integrated WebRTC technology).
Reduces travel costs through the support for integrated video conferencing.
Allows to answer calls through browser extensions even when your phone is inaccessible.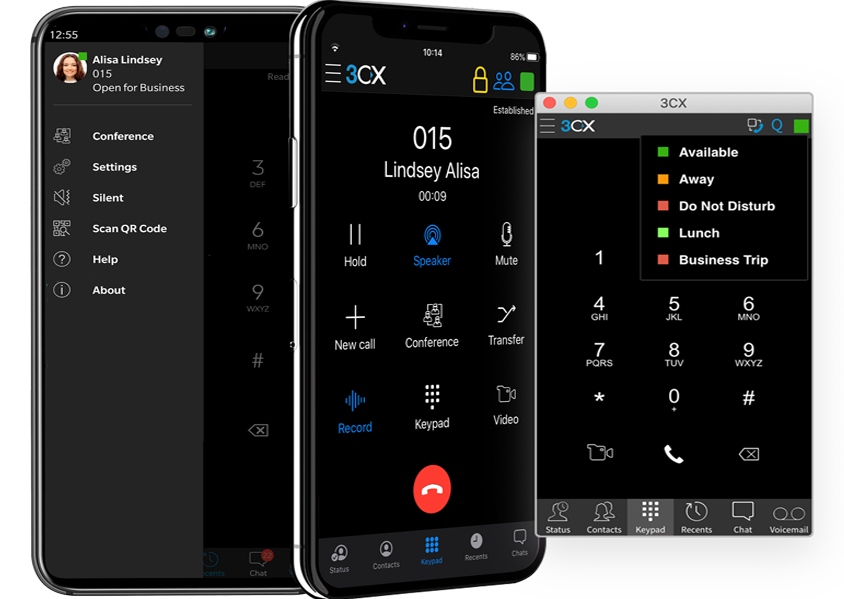 3CX for Android/ iOS devices:
free VoIP calls.
Low battery consumption through push notifications.
SIP forking for simultaneous connection between apps.
Integrated modules for web conferencing, status management and instant messaging.
3CX Live Chat
Specially built to let your clients directly contact you through your company website: chat, call or meet clients straight through the web browser.
Very simple, straight forward configuration process.
No need to worry about costs, it's free without any additional payments.
Business SMSing
Direct communication through text messages with web client and smartphone apps.
A message can never go unattended with capabilities to route SMSs to multiple queues, each with assigned agents.
No need to expose agents private mobile phone number.
3CX with Messenger
Simple, straight forward integration configuration of 3CX with Facebook Messenger.
Direct all incoming messages to the web client by integrating your Facebook business page.
Have agents dealing with customers through messenger without having to allow access to Facebook.
Allows to assign message forwarding to specific extensions or queues.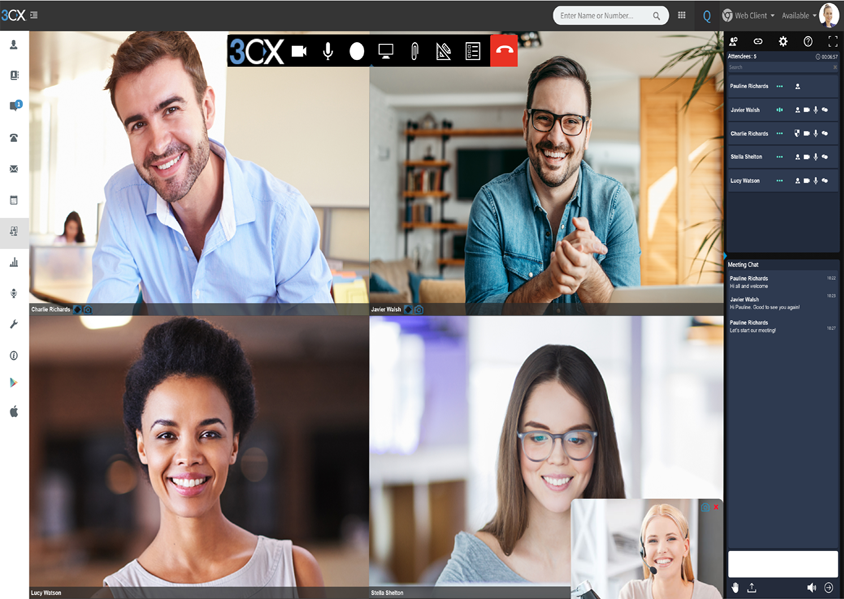 Integrated video conferencing
All free for 250 participants.
Unlimited user access for all editions.
Easy bandwidth management and control.
Log in to meetings through mobile.
Start meetings instantly.
Upload PDFs even before meetings start.
Receive feedbacks easily via simple polling tools.
Screen sharing without having to install any plugin/extension.
Quick and easy troubleshooting with remote control assistance.
3CX call centre features.
3CX Pro and Enterprise editions offer you improved call centre features without any additional costs. 3CX call centre features allow you to maximize your sales and productivity.
Reporting user activities, team queue and SLA.
Monitor and control agents' calls.
Queue Strategies and real time statistics.
Can be integrated with all leading CMRs – Freshdesk, Salesforce and Office 365.
Can develop custom CRM integration via 3CX CRM API.
Live chat and real time support for visitors to your web site.